Together with my family in Chiayi, we had a delightful stay in Ho Fong Villa Hotel. The hotel is ideally located within Alishan Forest Recreation Area, a very convenient access to all tourist spots and nearest to the foot of Alishan Forest Railway Station. (From our hotel to the train station is just a 15-minute walk and 8-minute drive)
Alishan National Scenic Area is in Central Taiwan, best known for its fascinating sunrises, high peak mountains, tea production and home to Tsou aboriginal villages. Keeping a lot of things in mind and running on a tight vacation schedule, we still have 4 days left after Alishan and set-off to Taichung the next day. Day-wise activities carried in conformity that was already arranged ahead of time.
Ho Fong Villa Hotel
Alishan Sunrise
An hour train journey to reach Alishan (Ali mountain), we must be there ahead of time before the sun rises in the east. We woke up 3 am to catch the early train, I'm an early riser, the kind who wake up instantly as other family members are difficult to wake up in the morning. On our way to Alishan Forest Railway station, it was still dark, cold and getting short of breath to climb the highest stairway, it was a bit strenuous but a good workout. Alishan's winter record drops 6°C, I was wearing all 3 layers top fit to protect me from winter freeze.
Around 4 am, railway station was crowded, hundreds of people lining up for trains. Way up, train running by forested ridge of mountains and unspoiled forest for an hour. Upon arriving to the final station and again, we need to climb another stairway.


My Alishan Forest Train Ticket

We arrived at the summit around 5 am, we need to wait for an hour for the sunrise. What a sight! By any standard, one of the most spectacular mountain range I've ever seen. Visiting Alishan is really a mystery and surprise!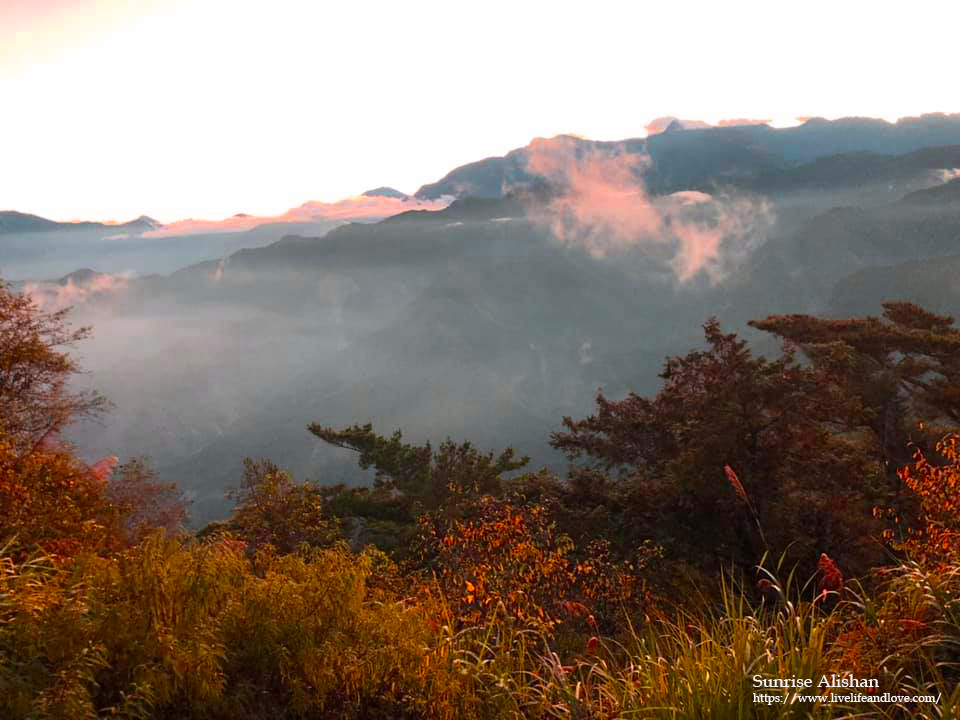 From my experience, sunrise takes about 5 minutes that's why, you need to be there beforehand.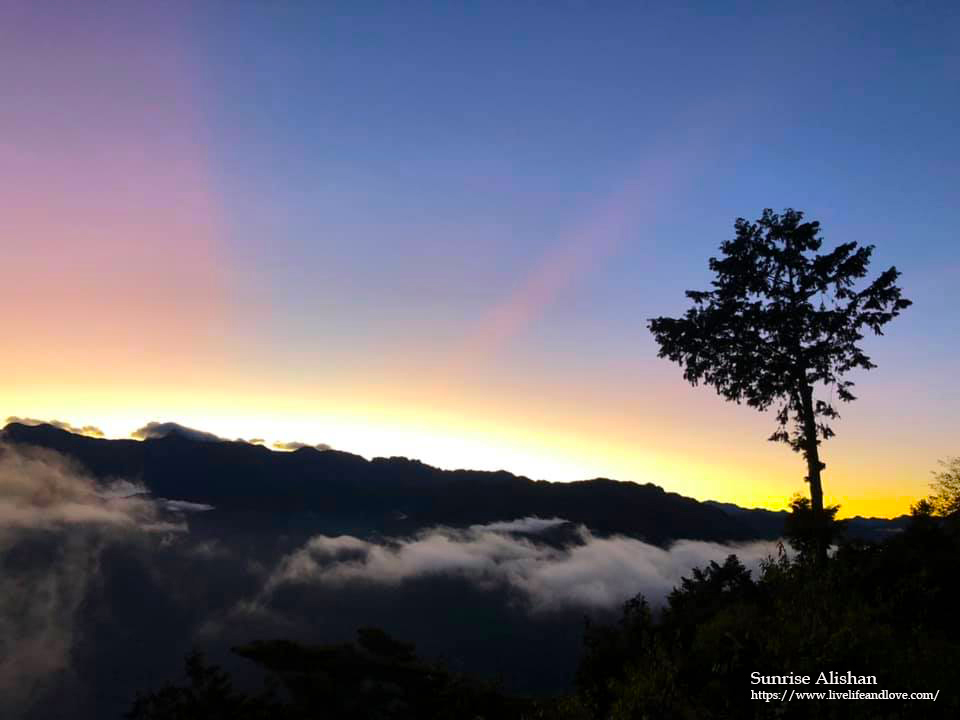 My effort paid-off! I was rewarded by the awe-inspiring scenery and the most beautiful sunrise above clouds in winter.
Sun rising above horizon is totally different from sunset that appears below horizon. The banyan tree standing before the sunrise.
Sunrise above clouds. The green, blue and foggy mountains with sea of clouds above.
My viewing point, I'm uncomfortable to capture with the presence of too many people beside me.
You can see on this photo the geographical features of Alishan.
First silhouette clouds
The silhouette of mountains against dawn looks like a watercolor painting.
To experience the beautiful sunrise, don't miss to visit Alishan, it was the most magical place I've ever visited. Taiwan has a diverse landscape and lots to offer for travelers. Capture your sunrise moments. Book to the nearest recreation area.
Alishan National Forest Recreation Area
Taiwan, Chiayi County, Alishan Township, 59號
My Taiwan adventure will not end up here, more beautiful attractions next post..