On a hunt for a breathtaking photo spot in the hopes of finding a dramatic landscape, a lucky change brought my way outdoors. The perfect location is now a pristine place, the new Manila Bay along the historic Roxas Boulevard where the environment is clean compared to what it was beforehand. After the clean-up drive, the new look is just as beautiful and many people wants to get a glimpse of its natural beauty to behold once again. I was here the same spot years earlier but this time would be a good line of photography experience, it gave me the initial idea to consider the presence of animals along with the sunset background to achieve a more dramatic scene.
This is a summer make-over given the chance to deal with obedience trials of animals, I was excited and curious to get my furry friends involved but I don't really know how to keep them still in the course of each shot. The sweet thing, they were all behaved and a good follower. Most of those who have taken their pets around Manila bay are welcome to join photo-shoots, it just happens the presence of animals being in the right place when I was there. Among my excitement when pet owners were able to join an hour shoot for their own pets. Aside from horses, there were birds, dogs, cats and an elephant is another location done the same day.
Pet owners has done a good job for allowing me to have a quick snapshot with their pets and I was even welcomed to cuddle and huddle their pets. This kind of activity soothes and relaxes both of us while developing close bond together even for just 15 minutes, excitement comes keeping a list of every shots.
I cannot predict a beautiful sunset, it depends upon the weather and level of clouds. So far, the air is clean, calm and the cloud is high, I'll take more advantage that when it's summer, it's a wonderful sunset time. Here are my stunning sunset photos. Let's get started.
Animal Photos with Sunset Background
The smallest creature comes first so the birds will take the lead followed by the cat, dog, horse and lastly, the elephant. This would be an unforgettable once in a lifetime photography experience, not a safari thing but the presence of more animals during sundown is a great thing. Let me show you first how sunset looks like beforehand, without the animals.
Magnificent Sunset Over Manila Bay
Birds in Flight at Sunset Background
Marveled by the beautiful colors of the sky, it's evident and dramatic. The hue scattering colors or orange-red, yellow- blue, purple and red makes a magnificent picture.
My excitement to see the migratory bird, the Great White Egret is a long distance migrant. ( 2nd photo ) you can see complete details of birds displaying aerial acrobatics wading, gliding and diving just in front of the sunset.
Great White Egret flying through the skies of Bayview, this bird has mastered the power of flight, it has a powerful wingbeat with long legs trail behind the body in flight.
A bird is an appealing subject in front of the sunset, it adds beauty to form a perfect sunset landscape. This is what I'm dreaming about… to aim for imaginative images and finally got it.
This serves to be my postcard shot. To create a postcard scene is a time waiting, I hate people in the foreground.
This is a graceful shot with the bird graceful glide and diving up into the clouds down to the water and even crosses the beautiful sunset. Definitely, it adds life and beauty.
Cat on Sunset Background
Sometimes…unexpected surprises came when least expected. Something out of the ordinary and less likely to be seen here. The sightings of a cat during sundown is rare considering the busy location perhaps, this is one way of enjoying animal freedom and must include his presence.
More stolen moments… taken at considerable distance during sunset time.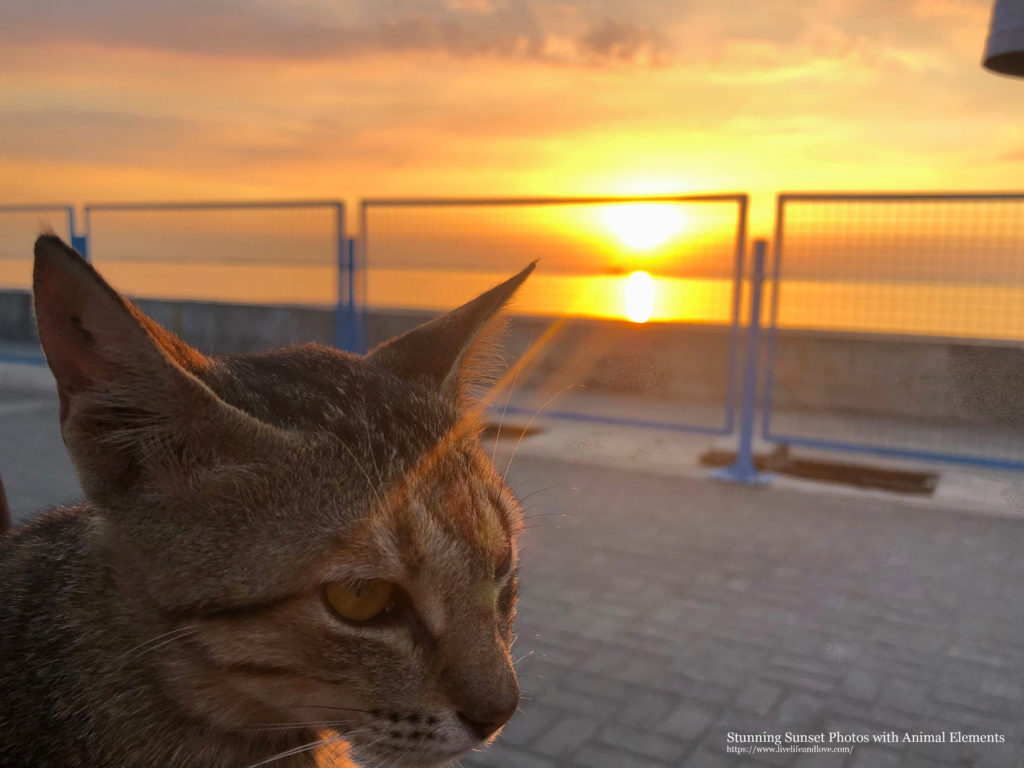 Perhaps this is a peaceful moment for the cat.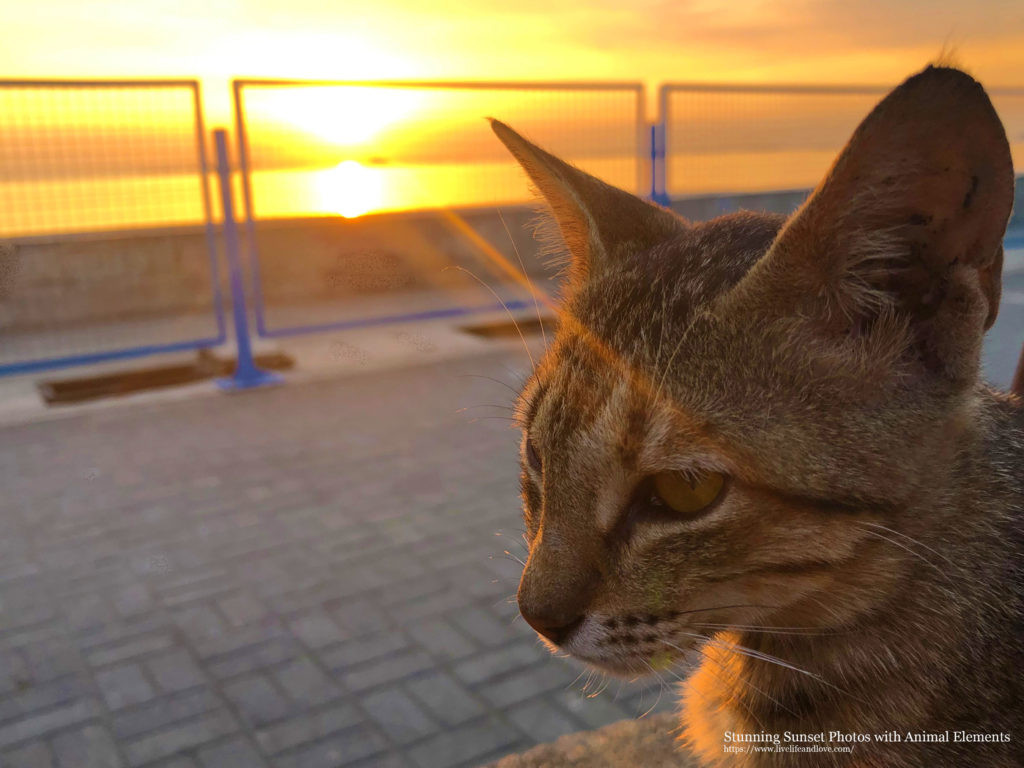 Solitary scene, I can even feel the peacefulness of the surroundings. Cat can be noticed as a loner, you really can't hide it even in pictures…
Dog on Sunset Background
A dog is totally different from a cat, you can see that this dog is happy smiling and I'm more inspired to take the next step.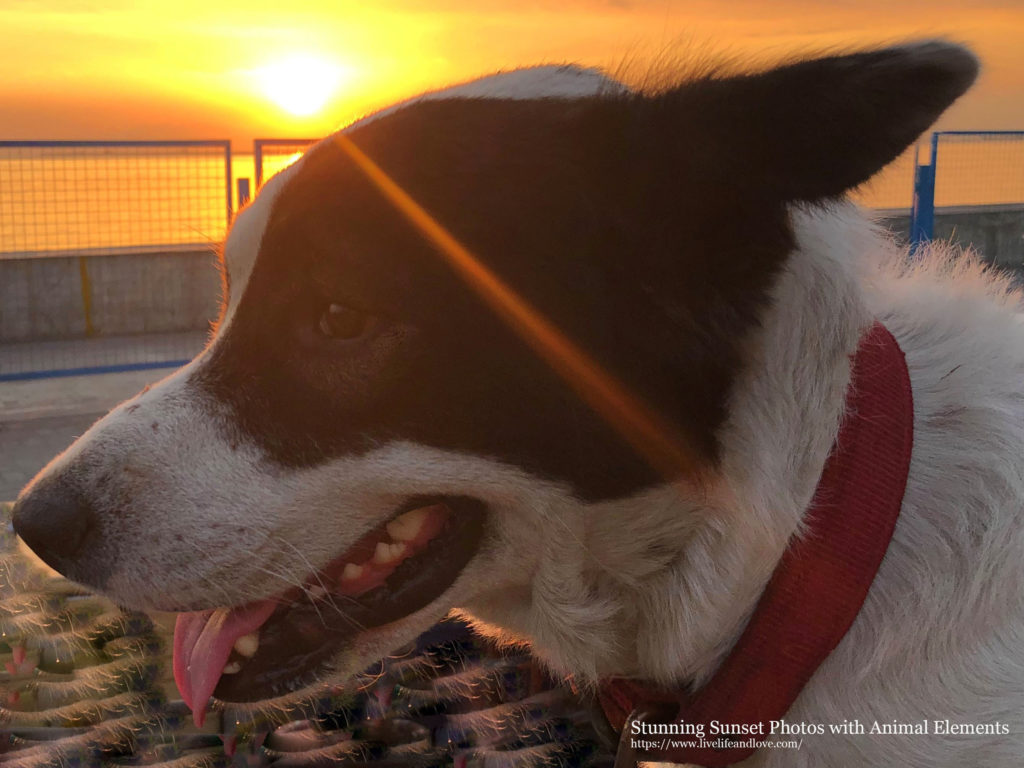 My newfound friend is a friendly one, got 2 dogs (Labrador breed) to include in here, the other dog is the featured one.
Beautiful Dog Portrait at Sunset.
You can just imagine the incredible bond between the dog and the photographer.
This is how to prepare dog for the shoot, exceptionally smart and affectionate, a well-behaved and sociable dog is excellent.
Horse on Sunset Background
A gorgeous working horse
Elephant on Sunset Background
As my finishing moment.. a different photography location just nearby Roxas Boulevard.
Mali, the captured elephant.
To capture an elephant on sunset is rare, a hard to get considering Philippines is a tropical country. It's a lucky shot!
Got 2 more weeks for my photo shoots around the city area and out of the city this coming holy week. I'm in a hurry to finish before the rain comes, rainy season shooting is a tricky one, just as have to know my limits beforehand. Rainy season is a full indoor photography time therefore would be focusing more on other categories like foods, science and technology and restaurant reviews soon.
One thing I have learned from this activity, photographing animals is a pleasurable interaction, communicating at every interaction, it was a busy but a very fulfilling day for me. I have to make photo-shoots short but enjoyable. I had quality time interacting with them and that makes it hard for me to end photo session. I will surely miss my furry friends.
To all pet lovers, I'm sure you'll love this! Thank you all readers for reading my blog.