It has a wide variety of interesting formations, typical of limestone caverns. The cave's interior is largely made up of stalactites and stalagmites with beautiful shapes and colors. You'll also witness the broken blocks of clusters, pointed shapes hanging overhead, and pointy pinnacles that have grown to enormous sizes. The most unusual thing I saw was a beautiful creation by Mother Nature that transcends normal geological phenomena.
Callao cave– one of several hundred limestone caverns, this one including seven chambers and found 24 kilometers northeast of Tuguegarao city in the municipality of Penablanca. Callao was named after a local settlement. It is both a cultural and natural gem of the nation. The coordinates for the entrance of Callao Cave are 17° 42′ North and 121° 49′ East, at an elevation of 85 meters. Reef carbonates dating back to the late Miocene and early Pliocene make up the limestone formation's 540 meters. In 1979–1981, a National Museum team directed by Maharlika Cuevas investigated the site for the first time.
The discovery of Callao man in 2007
Excavated by a team of local and international archaeologist led by Dr. Armand Salvador B. Mijares at a site in Callao cave, human metatarsal confirmed the bone is 67,000 years old which is much older than the "Tabon man" at 47,000 years old. The bones referred to as Callao man or "Homo-Luzonensis" predates homosapien bones discovered earlier in history. In addition, similar skeletons and ancient tools and other kinds dating back 10,000 years ago. All discoveries are a reminder of early settlers, this cave serves as ancient dwelling and it is also a reminder that early people lives here 70,000 years ago.
Dr. Armand Salvador B. Mijares – a Filipino archaeologist , a professor of Archaeology at the University of the Philippines and the main author of "Journal of Human Evolution."
Note: Complete photos of Callao Cave from first to the fifth chamber. Only the entrance of sixth chamber shown. Chambers 6-7 have been sealed off to the public, access is restricted due to landslide and erosion.
Upon arrival , purchase your tickets here. For your safety and convenience, avail their services, student cave guides are available.
Operating hours: 8:00 am – 5:00 PM
Admission ticket prices
Adult— P20
Student with ID— P10
Senior Citizen— P15
Children below 12— P10
Wedding Pictorial— P500
Operating hours 8:00 AM – 5:00 PM
Cave Rules
Always remember the Caver's Creed > Take nothing but pictures, Leave nothing but footprints, Kill nothing but time.
Be a responsible caver > No food allowed inside the cave. Littering / Throwing garbage and vandalism inside the cave is strictly prohibited and punishable by law.
Taking time off to marvel at Callao Cave is well deserved. My trip, like that of most tourists, will begin here. The hardest part of my journey so far has been the ascent of the 184 steps leading to Callao cave, but I am eager to finally reach the top. Water is an absolute necessity, and carrying all of my gear in a backpack allows me to feel more at ease and in control while climbing. That was one sweaty day! This is a challenging exercise that has me gasping for air; you need stamina, and you have to work harder before you can appreciate nature's splendor.
Not a first timer to visit Callao cave, I've been here a couple of times never had a problem. I was born in Piat Cagayan, my small hometown is just 40 mins away from Tuguegarao. Piat, my birthplace where I spent most of my life surrounded by people I grew up with. When I moved to Manila leaving behind my roots, It was difficult for me to leave the friends and family I had grown up with and the city of my birth for the bustle and excitement of Manila.
I never fail to visit my hometown, the place where I've started from. Every chance I have, I travel back to the place where it all began. The good news is that I was granted the opportunity to return to my hometown. If you go away for a long time and then come back for a little visit, I feel like a stranger in my own home. Here I am once more! After having so much fun and not wanting to go home, it's hard to believe that.
The aerial view of Peñablanca Cagayan taken from an elevated point of Callao cave.
A good view comes after the hardest climb. You can just imagine the amount of effort put forth , I was so relieved it was over! I must be honest to you > Climbing 184 steps was truly exhausting, my fitness level is good but my strength is nowhere near the strength that i had back in my heyday..
The entrance of Callao cave
The First Chamber of Callao Cave
The first chamber converted into a chapel where masses are held during scheduled Sundays and Holy Fridays.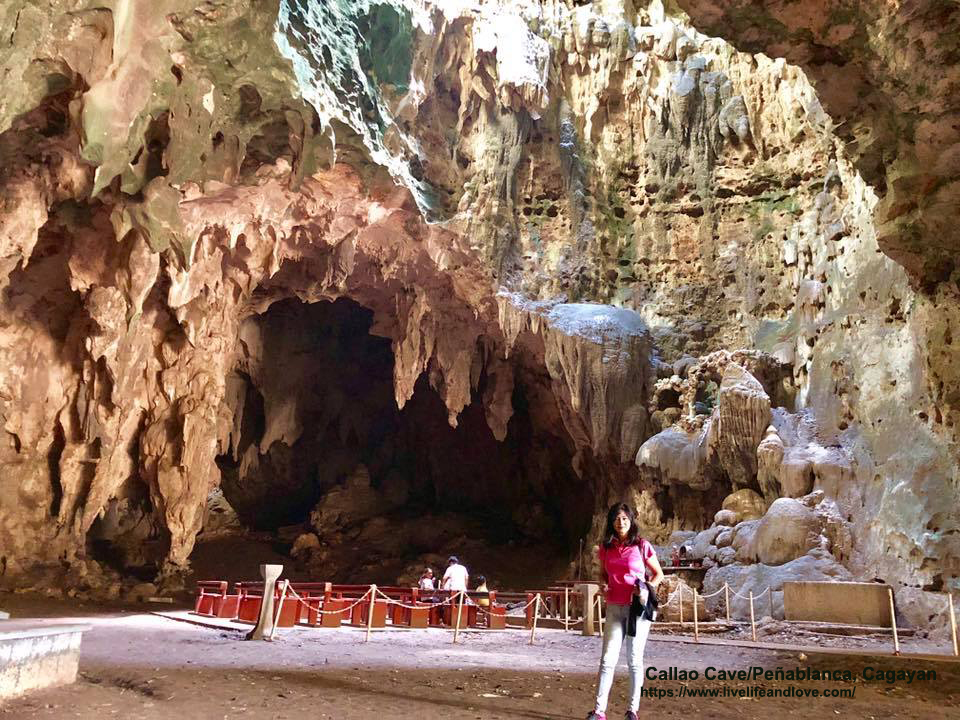 Callao cave, the best known limestone cave in Cagayan.
The first chamber is the welcome area, large and spacious. It is considered as the best chamber.
The 2nd Chamber of Callao Cave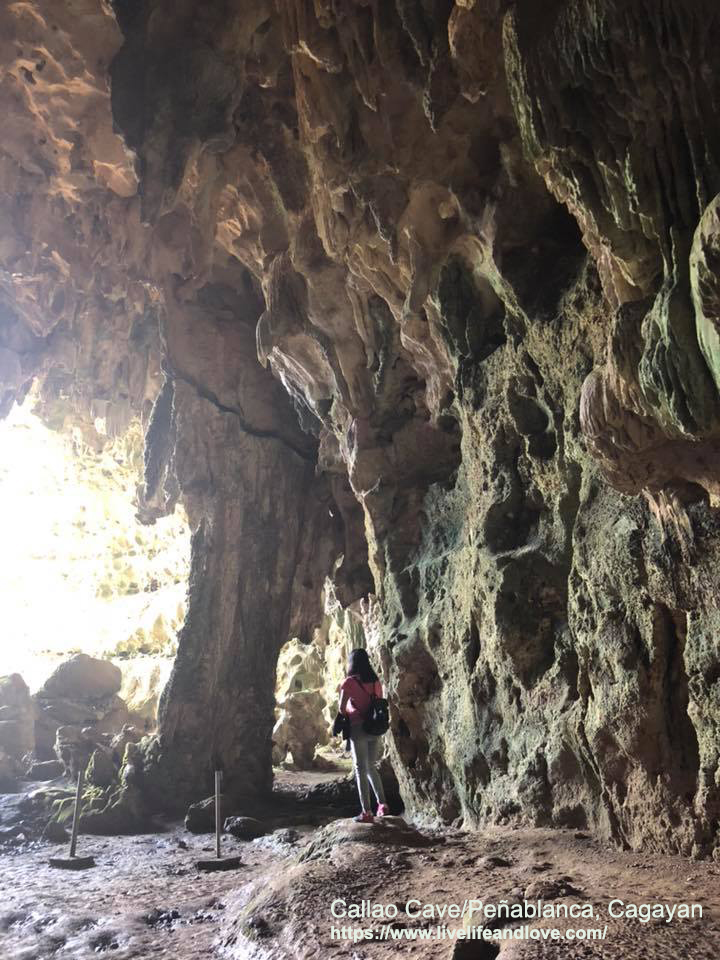 Hiking around passing through the chambers. Memories come flooding back my past visit to the same old cave. I was trying to recall and compare current changes however, I didn't see any except for the excavation site at the side entrance. My mind thoughts, as you get older, you'll face connectivity issues out here.
I'm adopting myself to life in the dark for a while . I'm experiencing a strange feeling to see multiple bats hanging, the atmosphere was dark and cold. It creeps me, life inside this cave is totally different from the life outside world.
The best day tour companions, from the left; Elvie, Baby Lanz, Dr. John, me and Kuya Tom Marvie. My unforgettable memories: taking photos and to bond sweet moments.
As I go deeper to the higher chambers, you'll see unique rock formations.
The Third Chamber of Callao Cave
Sun rays through the cave, pretty enough to illuminate the third chamber.
Hanging stalagmites grows upward of the cave, column formed under many process of wind-born sediments and water dripping from the cave.
Pausing for a break before entering the next chamber. That Girl in yellow shirt named " Mary Ann is our cave guide for 2 hours.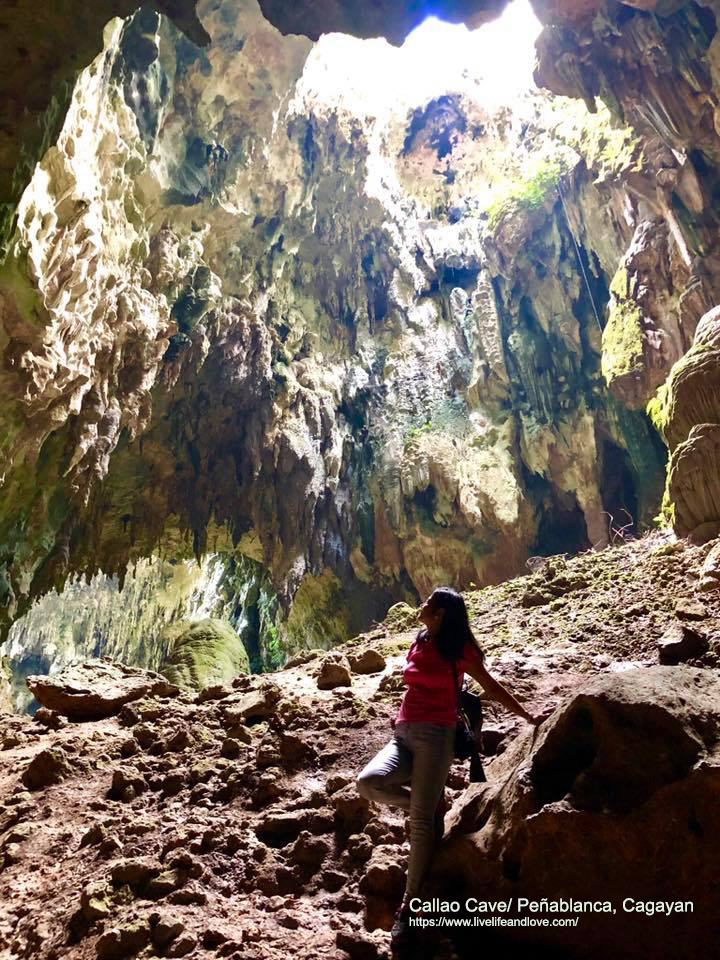 Cave formations carved by mother nature.
The Fourth Chamber of Callao Cave
This is how mother earth was made. Incredibly beautiful!
Inside the cave is a combination of light and darkness.
A hard climb going to the fifth chamber, the floor is too slippery.
Moving deeper and darker..
Following the hiking trails
Pretty light rays glows in the dark, the big hole up there was carved by mother nature.
The Fifth Chamber of Callao Cave
Callao cave interior looks like another world, it's a hidden world of light and darkness, peace and tranquillity.
Hiking and trekking can be a pretty thing for a while, I can still manage to smile after an hour climb.
Entrance of fifth chamber of the cave.
The Sixth chamber of Callao Cave entrance. My three hours cave adventure twists through all sorts of wondrous rock formations.
From my last visit, I stayed for more than a week but no matter how long I visit for, it was never enough, time wasn't sufficient enough to explore the whole of Cagayan. Hoping next year life will return to normal, will get the chance to visit Cagayan again. Thanks God for meeting old friends, relatives, town mates and all people I've known longest time. Sadly, we weren't able to make our way to Sta. Ana but soon..
Note: Callao Cave featured, fully illustrated throughout with informative texts. 22 Photos all in all. Callao Cave photos copyright protected.
@Copyright All rights reserved All articles fully illustrated throughout with photographs and informative texts. No part of my work may be reproduced, photocopying, and recording any photos and information storage without any written permission from the author.
Thank you for reading my blog!
Coming up next>>" Iguig Calvary" and "Poor Claire"