One of the most awaited event is the Paskotitap Christmas Lights and Sound Parade or Paskotitap Festival. It is an annual parade held every December in the city of Pasig. Paskotitap is a beautiful exhibition of electronic floats  sponsored by participating institutions and schools.The event will also showcased all beautiful designed floats and performances of dance troupes from each school. It was a project of the Rotary Club of Mutya ng Pasig and Ortigas group of Companies with the help of Participating schools, Barangay and City officials.
It was truly was a beautiful Christmas evening last Sunday (December 13,2015). It was a magical night! This year's Paskotitap Christmas Lights and Sounds presented 14 popular animated themed floats from action, epic, fantasy and adventure movies. Superp floats to represent reastically all the 14 movie-themed concept in distinctive characters; Dragon Ball, Sponge Bob,Pokemon,One Piece, Minion, Star Wars, Avengers, Fantastic Four, Jurassic World, Lord of the Rings, Scoobie Doo, Doraemon and Transformers. It was fun- filled excitement to see all floats colorful decorations, set up with eccentric lights, beautiful music that goes well with the float theme and participating students with elegant and ravishing outfits.
The float designs and artistry is quiet astonishing. A friend behind said, It's spectacular! People beside me keeps on roaring, cheering and dancing. This parade attracted thousands of people  and visitors around Pasig eventually rising to more this year.
This is already my 5th consecutive year of covering the Paskotitap.I had published the 4 other coverage in the past. I started way back –year 2011 during the Power Puff Girls, Kitty, and Avatar time. For the first 3 years, I've published only the evening coverage and all images done by night photography but last year 2014 and up the present, I've made double effort to photograph all details ahead of time, that was done at midday and be back again in the evening for my night details. It was a double pressure to do it twice but indeed with pleasure as well. At midday, the colorful features of the float will come out but not as vivid during the night. That's the difference.
Initially, the event due to start at 6:oo pm but this year, it was delayed to some issues, a float generator is not working and there's a quick rush to catch up the limited time for installation.
As originally planned to follow the parade directly all the way to Pasig City Hall for the performances and awarding of winners for Group dance contest, Best float and costume design but as expected, traffic has exploded out of proportion, I was caught in a traffic jam for hours because major roads are fully congested.
You can see here all the themed floats creative design and decorations have been brought together in almost perfect coordination possible. I'm here to share the excitement.
Mayor Maribel Eusebio of Pasig with Mark Sambrano
The parade started after the live interview of GMA-7 and ABS CBN with Mayor Maribel Eusebio.
No amount of happiness can compensate for documenting this Paskotitap event so i can share it with you. My particular thanks to all Paskotitap organizers, float creators, designers, participating students, Schools, All sponsors, Rotary Club of Pasig and to Mayor Maribel Eusebio. Here are some photos taken last Sunday- Paskotitap 2015
Blog entries prepared for publications
@copyright all rights reserved Dec.2015
Note: Click on all images to view larger
The Jurassic World Float
It represents the spirit of Jurassic dinosaurs in the Mesozoic era. As you approach to see the images, it will change your mood and transformed everything bringing you back in time.
This model is one of its kind.
High school students wearing carnival costumes to match with the float animated theme.
The Star Wars Float
The float dramatically illustrates the war in the universe. Scene appeared to be dynamic and alive.
The Jedi Knights
Main Characters, Darth Vader and com.
The Queen Amidala costume.
The Dragon Ball Float
The Fantastic Four Float
The Lord of the Rings Float
The One Piece Float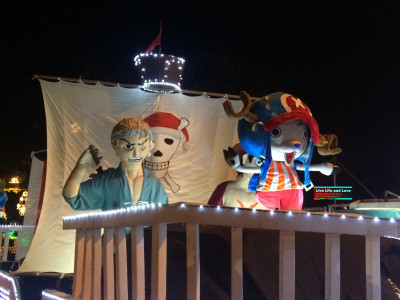 The Sponge Bob Float



The Pokémon float




Impressive! What a beautiful make-up.The shading of different tones is very artistic. Thanks to the make-up artist,you deserve a recognition.

She volunteered for a single snapshot! Awesome! Looks like a real glittering fairy flapping and spreading her wings like a butterfly.

The Minions Float

The Avengers Float
The Scooby Doo Float




The Gurimon Float
The transformers float
Most picturesque movie themed float. Transformers float is the best loved by the kids around.
MineCraft Float
By: Alba Works

Thank you to the good record and service projects. Thank you, thank you Rotary Club of Mutya ng Pasig. Ang babait ninyo!